Bainbridge Township, Aurora, Ohio (August 2021) – The Morgan Companies ("Morgan") is pleased to announce Bainbridge Township's approval of a new freestanding Starbucks location at Marketplace at Four Corners shopping center, located at the intersection of Aurora Road and Market Place Drive in the Aurora, OH. The development was approved at the August 19, 2021 Bainbridge Township Zoning Appeals meeting.
Morgan acquired the property in July 2019 through its affiliate SDC III – OH, LLC, and has signed a lease with Starbucks Corporation ("Starbucks"). Goodman Real Estate Service Group, LLC facilitated the lease transaction.
The Morgan Companies will develop a 2,226 SF freestanding building featuring a single lane drive thru for Starbucks. This will be Morgan's first development in the State of Ohio. Construction is anticipated to begin September 2021 with a target delivery in early 2022.
An adjacent 0.83+/- acre pad is available for ground lease or build to suit. Excellent corner location at a signalized location with frontage along Aurora Road. For additional information, please contact Peter Morgan at (310) 901-1390 or [email protected]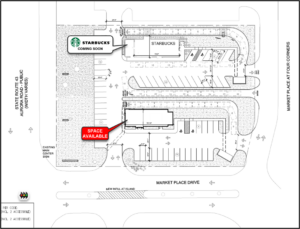 About The Morgan Companies
For more than 40 years, the professionals at The Morgan Companies have produced quality commercial developments for its principals, clients, and investors. We have acquired, developed, managed, and leased over $1 billion in multi-sector assets in markets across the eastern U.S. Morgan has active development projects in several states, and has offices in Charlotte, North Carolina and Fort Lauderdale, Florida.
For more information, please visit www.themorgancos.com.