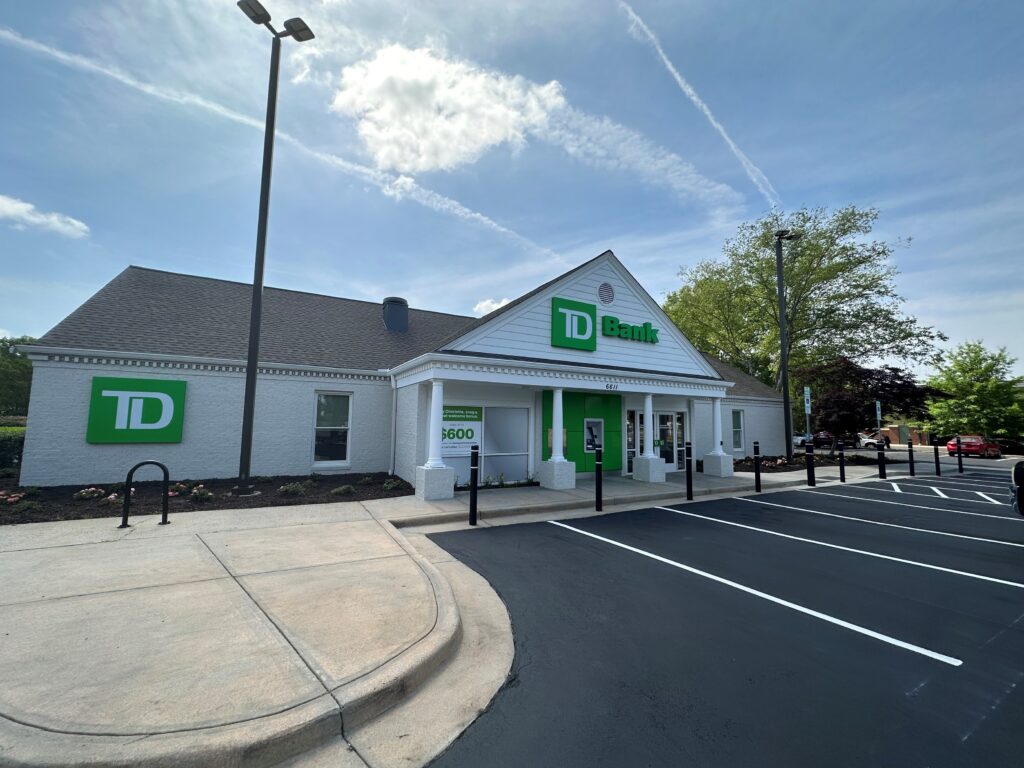 CHARLOTTE, North Carolina (May 2023) – The Morgan Companies ("Morgan") is pleased to announce that TD Bank, America's Most Convenient Bank®, opened its first store in Charlotte, NC, at its freestanding location at 6611 Carmel Road. Morgan is also developing a new Publix Supermarket adjacent to the TD Bank.
This store is part of TD's plan to open approximately 15 stores in Charlotte by 2025. The grand opening for this store was held May 12-13.
"The relationship with TD Bank over the years has been tremendously beneficial," said Trey Morgan, President and CEO of Morgan Companies. "We could not be more excited about the grand opening, and I am sure they will be very impactful in the community."
About The Morgan Companies
For more than 45 years, the professionals at The Morgan Companies have produced quality commercial developments for its principals, clients, and investors. We have acquired, developed, managed, and leased over $1 billion in multi-sector assets in markets across the eastern U.S.
We handle all phases of the complex development process from site selection and governmental approvals to financing and construction. We also provide effective leasing programs and property and asset management services for retail shopping centers, office buildings, hotel, medical facilities, and single-tenant properties. Our working relationships with national, regional, and local tenants build sustainable occupancy levels and tenant mixes that reduce the likelihood of future turnover. Morgan has the people, expertise, and resilience to provide solutions for all your real estate needs.
We are proud to continue this tradition and look forward to working with you to achieve your goals. For more information, please visit www.themorgancos.com
About TD Bank, America's Most Convenient Bank®
TD Bank, America's Most Convenient Bank, is one of the 10 largest banks in the U.S., providing over 9.8 million customers with a full range of retail, small business and commercial banking products and services at more than 1,100 convenient locations throughout the Northeast, Mid-Atlantic, Metro D.C., the Carolinas and Florida. In addition, TD Auto Finance, a division of TD Bank, N.A., offers vehicle financing and dealer commercial services. TD Bank and its subsidiaries also offer customized private banking and wealth management services through TD Wealth®. TD Bank is headquartered in Cherry Hill, N.J. To learn more, visit www.td.com/us. Find TD Bank on Facebook at www.facebook.com/TDBank and on Twitter at www.twitter.com/TDBank_US and www.twitter.com/TDNews_US.
TD Bank, America's Most Convenient Bank, is a member of TD Bank Group and a subsidiary of The Toronto-Dominion Bank of Toronto, Canada, a top 10 financial services company in North America. The Toronto-Dominion Bank trades on the New York and Toronto stock exchanges under the ticker symbol "TD". To learn more, visit www.td.com/us.