Hickory, North Carolina (January 2022) – The Morgan Companies ("Morgan") is pleased to have donated buildings to the City of Hickory Fire Department for specialized, hands-on training. Morgan purchased the buildings, which consists of two vacant homes and a restaurant, at the northeast corner of Highway 321 and 2nd Avenue NW in Hickory, North Carolina, in December 2021.
Firefighters used the buildings for ventilation practice, forcible entry techniques, aerial operations, building construction design instruction, and rescue scenarios.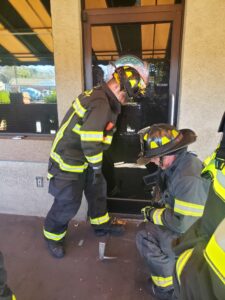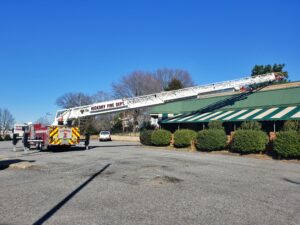 "The City of Hickory Fire Department would wish to extend a heartfelt thanks to The Morgan Companies…for the generous opportunity to make use of their structures for advanced firefighting training," said Chief Matt Hutchinson. "The use of acquired structures for fire and rescue related training is invaluable and offers our department the chance to put previous training into practice in a real-world environment. This type of experience will only enhance our abilities to provide the ultimate level of protection to our citizens."
Morgan plans to develop a commercial project on the property, with tenant announcements forthcoming.
About The Morgan Companies
For more than 45 years, the professionals at The Morgan Companies have produced quality commercial developments for its principals, clients, and investors. We have acquired, developed, managed, and leased over $1 billion in multi-sector assets in markets across the eastern U.S. The company has offices in Charlotte, North Carolina and Fort Lauderdale, Florida.
For more information, please visit www.themorgancos.com.